Oreo Layer Dessert
1 pkg of regular Oreos
1/2 c. of butter
1 lg box of instant chocolate pudding
2-8 oz cool whips
8 oz. of cream cheese, softened
1 c. powdered sugar
Crush the whole package of cookies either with a food processor, or in a bag and a rolling pin. Save a 1/2 c. to sprinkle on top of dessert when it's done. Pour remaining crumbs in a 13x9 pan. Melt butter and pour into crumb mix. Stir it up good and press crumbs in bottom of pan to make a crust. Make chocolate pudding according to package directions and let it setup in the fridge. In a mixing bowl blend cream cheese until nice and smooth and then add powdered sugar, mix. Then fold in 1-8 oz thing of cool whip. Top oreo layer with cream cheese mix, then pudding, then your last 8 oz thing of cool whip, and then sprinkle remaining Oreo's on top. Cover and refridgerate until ready to serve.
Cookies & Cream Brownies
*One batch brownies with chopped up Oreos added.
*Cookies & Cream Frosting, doubled :)
2 cups powdered sugar
4 Tbsp. butter, room temperature
1 Tbsp. heavy cream, plus a little extra
approx. 8 oreos, crushed well
Combine all frosting ingredients except the oreos and beat with a hand mixer until light and fluffy. You may need to add a bit more heavy cream to get a spreadable consistency. Mix in crushed oreos (more or less). Spread frosting evenly over cooled brownies.
You can fancy these up by topping each bar with an oreo cookie half like I did or you can top the whole thing with ganache thus smothering the "cream" between two layers of chocolate.
Enjoy!
2 oz. strawberry infused Svedka vodka | 2 oz. simple syrup | 2 oz. fresh lemon juice | Top with sparkling wine | Garnish with strawberries and mint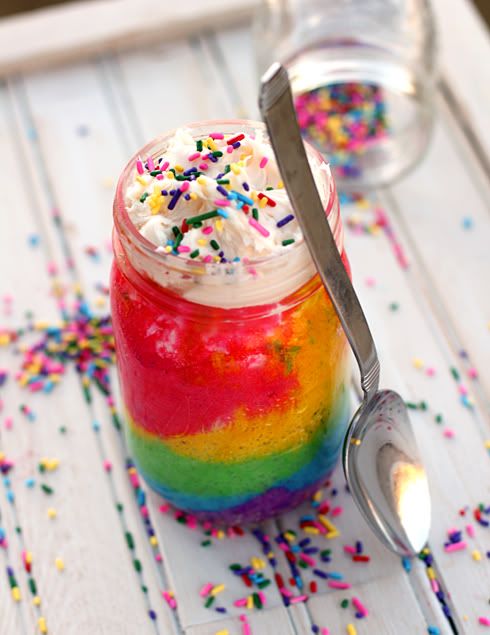 Rainbow Cake in Jar
1 box white cake mix made according to package instructions
Neon food coloring in pink, yellow, green, turquoise, and purple
3 one-pint canning jars
1 can vanilla frosting
Rainbow sprinkles
Preheat oven to 350 degrees. Thoroughly wash and dry the inside of each canning jar. Spray the inside of each jar thoroughly with nonstick cooking spray. Set aside.
Scoop about 1/2 cups of cake batter into five small bowls. It doesn't have to be perfect, don't panic if you get a little more of less of one color than another. Tint each bowl of cake batter with the food coloring until very vibrant.
Spoon about 3 tablespoons of the purple batter into the bottom of each jar. Spoon equal amounts of turquoise batter, then green, yellow, and pink. Place the jars in a shallow baking dish, add about 1/4″ in water in the baking dish. Place the baking dish in the oven and bake for 40-50 minutes. Spring to the touch
Remove jars and allow to cool completely before scooping a small portion from the top of your cake and adding a hefty dollop of vanilla buttercream to the top. Sprinkle & serve, or cover with a lid and store in the fridge or pop into the mail & surprise someone you love!
Whiskey in a Jar (Flourless) Chocolate Cake
Ingredients
1 stick butter
8 oz chocolate pieces (chopped fine) or small chips, semi-sweet
1/2 cup white sugar
1/2 cup brown sugar
4 eggs
1/2 teaspoon baking powder
1/4 teaspoon salt
1/4 teaspoon baking soda
1/2 cup Tennessee whiskey, I used Jack Daniels
nonstick spray
Frosting
4 oz shortening
4 oz softened butter
1 lb powdered sugar
2 tablespoons milk or whiskey
Method
1. In a double boiler, or in the microwave, melt butter and chocolate together. Stir well. Let cool.
2. Add butter and chocolate to a large mixing bowl with sugars. Mix until well combined. Add whiskey and mix well. Add eggs, one at a time, until incorporated. Mix well. Add salt, baking soda and baking powder. Mix very well. .
3. Pour into 4 pint jars that have been sprayed well with non-stick spray. Bake at 350 degrees for 30 – 40 minutes, or until cakes pass the toothpick test. (And they have risen and fell)
For frosting:
1. Cream softened butter and shortening in stand mixer with wire attachment.
2. Add sugar. Mix on low until combined. Turn mixer to high. Add a little of the milk or whiskey at a time, until icing is light and fluffy.
3. Refrigerate until ready to use.
Makes 4 large servings
Note: All the whiskey does NOT cook out of the cake, so it is NOT kiddie-friendly.
wish i had this recipe